Dropper Caps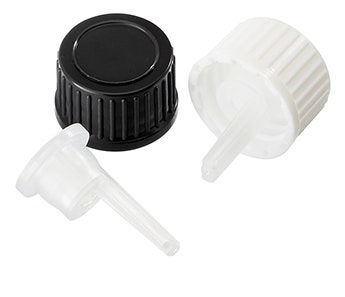 Neville & More is able to provide a wide range of dropper and dosing inserts and closures direct from stock.
With over 70 different dropper and dosing inserts available we can meet specific dispensing performance requirements for a huge variety of dropper speeds, flow properties and liquid viscosities, ranging from alcohol based liquids through to highly viscous essential oils such as Benzoin, Sandalwood, Myrrh or Peru Balsam.
All our dropper and dosing inserts come pre-assembled into a simple screw on cap, a tamper evident cap, a child resistant cap or a combination child resistant and tamper evident cap. This pre-assembly means it is very easy to apply the dropper and cap to the bottle in a single action.
There are two main types of dropper inserts, Horizontal Droppers and Vertical Droppers.
Horizontal Droppers
Horizontal droppers are also commonly known as rim droppers or all round droppers. This type of dropper can be used for an extremely wide spectrum of applications and is generally specified when precise dosing of product is not an absolute requirement due to the fact that the dosing volume of this type of dropper may vary. This variance results from the varying angle (normally between 120 – 150 degrees) at which the bottle is held by individual consumers when dispensing the product.
The Horizontal Dropper is composed of a central air hole and a series of smaller liquid dispensing holes positioned in a circle around the central air hole.
Vertical Droppers
Vertical Droppers, as the name suggests, are used for dispensing liquids when the bottle is held at 180 degrees (upside down). Vertical droppers are designed to dispense very precise drop volumes with low variation in dosage.
The Vertical Dropper is designed with two channels, a central dropper channel from where the liquid exits the bottle and a longer side air channel to allow the air back into the bottle. The dropping speed and drop size and weight are controlled by the diameter of the apertures in the liquid and air channels and we stock a wide range of vertical droppers with different aperture sizes which provide different dispensing performance tailored to the precise characteristics of the liquid.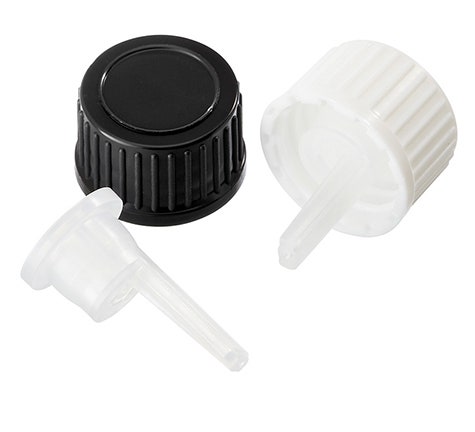 Get In Touch
Whether you're looking for a stock package or a groundbreaking custom design, our passionate team is here to help. Let's get started today.